> Get creative and discover all the wonderful ways we can get healthy & happy outdoors <
Getting Physical outdoors 'Green Exercise' not only gives your required daily dose of fresh air and exercise, but exercising under the sun provides us the vital Vitamin D we need for our bodies to function and absorb nutrients, and has been researched to show this may increase performance and improve recovery!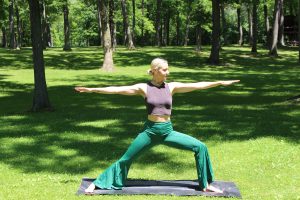 Studies of people walking outdoors tended to walk faster than they did indoors. Those working out in nature had more motivation to push themselves harder, acutely burning more calories, and releasing the happy endorphin hormones leading to long-term physiological improvements, fun & laughter! Release your Inner Child again!
'Green Exercise' can improve self-esteem, decrease tension, anger, and depression.
By giving attention to an external pleasant and green environment reduces awareness of physiologic sensations and negative emotions. Can't say that about a boring ol' gym workout!
Your workouts can be fun and relaxing! …Research shows stress-reducing properties by influencing physiological parameters of blood pressure, heart rate, and endocrine markers. Workout participants show returns to baseline blood pressure values more quickly, and exhibit decreased secretions of the fight or flight hormones adrenaline and cortisol, which research is beginning to link to increased fat storage, cravings for unhealthy food, and abnormal thyroid function.
All in all this means you are more likely to get results and be more motivated to stick to your exercise and nutrition plan!
So go on, open your front door, embrace and breathe in the fresh air, feel the freedom and fun of the outdoors – try something new, exhilarating and outrageously good for you and your spirit!
Here's a few ideas to get you started:
> Paddleboard Pilates / SUP Yoga Fitness – SUP'er fun workout on water and powerful core balance challenge!
> Take your workout to the park or beach – Put down your Pilates / Yoga mat and start with some stretches, breathe in the fresh air to energise you, and start a workout at your own pace.
> Outdoor Bootcamp – use the outdoor jungle gyms – even workout with the kids!
> Walk, Jog along the Gold Coast Beach Trails using all the gym equipment along the way
> Cafe, Art & Cycle Trail – Cycle along the Gold Coast Boardwalks, stopping at some of the best cafes, artworks, surf clubs for refreshments and cool off at one of the beautiful beaches along the way.
> Hit the Hinterland and walk the many trails taking in the glorious views along the way, and stopping for a picnic at one of the many waterfalls.
Please contact Monique – your local Wellness Coach – who can help you discover your outdoors and a great reason to workout!
Monique Carole – Holistic Health & Fitness Coaching
Phone: 0416 066 310